March 2006
17 Jan - 31 Jan 2006
Ceuta to El Jadida
Morocco entry formalities
| | |
| --- | --- |
| We were prepared for Central American style border crossing (4 hours +), something with which we have had a fair amount of experience, after all this is Africa. Lo and behold, it was very quick (~35 minutes), for two people who split up the standing around (as far as this was possible). There are a number of helpful gentlemen who will tell you which form you require and at what window you have to stand to get it stamped (in at least 3 languages). For a tip of course, well worth it, but keep it to 1€ per vehicle maximum. The quick run down goes as this, you need an entry form (best when you get your ferry ticket), and that with the passport has to be shown at one window. At another window you stand in line to get a green vehicle customs form with your vehicle documentation. Once this is filled out and you have the passport stamped, you go back to the same window, show them the form and the proof of insurance as well as the vehicle documents, they stamp this and give it back to you (a white and green form). You then go to the next guy and they check the passport and the vehicle document (they also sign it). You now drive out and at the gate the guy checks your passport. That is it. As you don't need the passport to pick up the green vehicle form two people can split this. Not too bad. Probably a lot worse in summer when the lines go back to the ferry terminal! | |
Morocco First Impressions
What is it like, what did you like the best, worst etc? Many questions, and hopefully a few answers.
First impression of Morocco go like this.
1- A lot of people on the streets
2- Practically every Mercedes sedan built before 1980 is here
3- Practically every Peugeot 102/104 ever built is here
4- Lots of animal traffic, mules, donkey, horse carts.
5- Chaotic block houses (mud or brick) architecture.
6- Housing compounds.
7 - Clothing
8 - Lots of Police
1: Very simple, lots of people, few cars, little public transport, equals a lot of people have to walk to wherever they are going. This is something which is fairly predictable and you will see a lot of other places, it is just one and half hour ago, you were hurrying along a highway and there is no-one walking. Here everyone must.
2: The old Mercedes make excellent taxis. In Morocco they are called Grand Taxis and go between towns (smaller taxis, Petit Taxis are the Peugeots, see below). So in every town and hamlet, you will see these cars, usually gold/red colored. It is just really funny, driving along and there are 20 or 30 of these just parked there in a row, or driving like mad from one place to another, with anywhere from 3 to 8 passengers (yes, 8).
3: These are great cars for the towns, where the streets are narrow, and you will see them everywhere in Morocco as Petit Taxis. It is also interesting to note that on a single traffic lane, you (the Moroccans) can fit three of these cars without much problem.
4: Morocco is an agrarian society, most people live out in the country and are small farmers, there are no roads, and cars are expensive, there is no money etc. It all translates to animal power. The most interesting thing I found was that in some towns (Marrakech), these animals were indispensable in the markets and souks, where they are used as small trucks (pulling a little wagon). To carry everything and anything along very small alleys they seem ideal. Where even these are too large, you will find people pushing smaller carts with all the things that go in and out of small towns. (Essaouira)
5: Specially in old cities, or towns restricted by natural reasons (mountains etc.), it looks like they just built stuff on top of each other without any rhyme or reason. This also makes for some of the very confusing alleys and streets in many towns. Not to mention that they often just leave decaying buildings standing, using the materials to build new stuff.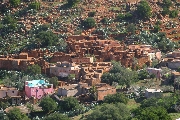 6:Everywhere in Morocco you will see houses built into compounds (with a high wall around the building or the house as part of the wall in the back, with a courtyard walled in). Something historical and practical, both as a security measure and to provide a wind break.
7: I honestly didn't really notice this, other than it was as I had expected. There are women wearing veils, either completely or partially covering their faces, and some only covering their hair. The one thing that did stand out is that the men wear a type of robe over their clothes. This is something you see both in the country and in cities, as a universal dress practically.

8: Everywhere in Morocco you will find police, usually at most intersection, but sometime just about anywhere! We never had any problems, and were only pulled over a couple of times, usually out of curiosity (other than in the direction of Western Sahara, where they were registering motorcycle travelers?), and only asked us a couple of questions; where are you from, how long have you been here. And otherwise never bothered us. The way the Moroccans drive it didn't surprise us after a while, but then we noticed that they apparently didn't care about anything other than speeding, which they promptly pulled anyone over. Also, to our surprise we saw a lot of radar guns being used.
Northern Coast
Our first stop in Morocco is Martil, a vacation and university town. After finding the campground, behind an apartment block being build, we set up and then took a walk into town to get some more impressions of Morocco.
As there were no other tourists, we were the main attraction to everyone, whether passing people in the street, or being watched from the various tea houses. This is something you get used to pretty quick and don't pay it much attention. I guess we are as interesting to them as they are to us, particularly we couldn't quite figure out why a lot of women did not have their hair covered. This is in general something that you will notice all over Morocco, some women, are completely veiled, some partially, some not at all.
Another thing that we noticed then and during our whole stay in Morocco is that there is a lot of building everywhere, and a lot of abandoned or run down structures, houses, roads, bridges whatever. It is almost as if rather than repair something, they prefer waiting until it collapses and then building it again, or over.
We got some bread (khobs) and some water (sidi ali, a brand name, but universally used to ask for bottled water). Walked back along the beach, which did not bear closer scrutiny (very dirty, walking barefoot, definitely not recommended). At the camping we cooked and reflected back on our first day in Morocco, all in all very nice was the verdict.
Along the northern coast of Morocco we were pretty much alone, no tourist or other European in sight. We were surprised by all the people (mostly men) sitting along the road everywhere, apparently just waiting around for something, or nothing. The coast is a great motorcycle road, (as long as your bike is a GS), plenty of curves, dirt, pot holes, rocks etc. The road winds up an down a very hilly coastline, always coming back down where ever a stream or river came down from the hills, making for a real roller coaster ride.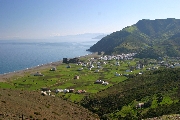 At a little fishing town called El Jabha, we ran out of road and had to head inland. Our maps said there was one along the coast, but we didn't find it. As soon as we headed inland, the road climbed up into the snow, not to mention that the first 10 km was "under construction", with nothing but some gravel track or very wide mud flats where they were working; and it was freezing and foggy. No fun at all. After a long, long day we finally made it to Al Hoceima, which was at least a bit warmer, and we spent the next few hours just defrosting. Check out the Martil to Al Hoceima track, the height of the road really surprised us. Guess we should have studied the map more.
Al Hoceima to Meknes
| | | |
| --- | --- | --- |
| From Al Hoceima, we headed across and over the Rif mountains which was very nice at least as far as the landscape is concerned. Two things really started to annoy us. First, it was cold, very cold for a while we were driving through snow covered hills with at least half a meter on both side of the road, brrr. | | Second, the road would wind through some very small mountain towns, and we would be assailed from all side by the young and old, being offered hashish! They would see us coming and literally run out in the middle of the road and try to flag us down and offer some "stuff". |
Drivers would overtake us, then stop or slow down and hold little plastic bags out the window, when we passed them again! As far as I am aware it is now (although until recently it was legal) illegal to grow marijuana in Morocco, and selling it certainly is. What occurred to us, is that to have this many people, almost universally offering drugs to tourist, they must be used to having them (the tourists) actually stop and buy some!
| | | | |
| --- | --- | --- | --- |
| After a long and cold ride, through some wonderful country we reached Chafchauoen where we just spent a night, before moving on to Meknes. In Chafchauoen we ran into our first motorcycle rider in Africa. Martin had "just" set out and was on his first big motorcycle trip. We traded some anecdotes and tips and a few laughs before calling it a night. | | | The next morning the country changed remarkably, we were out of the mountains and into the fertile plains. We also passed some very scenic towns, before hitting the chaos of Meknes. |
Meknes
Just finding the campground in Meknes took us a while, and that with exact GPS coordinates! The problem was the multitude of walls, around the city, around the palace, around just about anything, and finding the right gate through which to go, to get to where we wanted. In the end we circled the campground twice before hitting the correct entry point. In hindsight, it shouldn't have been that difficult as there were signs (barely legible), but as they say hindsight is 20/20. Anyway the campground is around 1km from the medina and the main plaza, so we headed into town to get some food (our first consideration, always).
| | | |
| --- | --- | --- |
| | The next day, we walked around both the old town and the new town to get our bearings. The main plaza is where the famous Bab Mansour is and we sat there and watched the tourist and locals alike for a while. We also checked out the Ville Nouvelle, which is the French built part of town. The Ville Nouvelle is basically like any other large town, grid pattern, Mc Donald's, malls, pedestrian zones etc. The "old" town, is Morocco, as we expected it. | |
| | | |
| --- | --- | --- |
| For dinner, we decided to go out an sample to the local delicacies. In this case it translated to a Tajin in a traditional Moroccan home. You walk into this place and mom and dad are watching tv in one room, you get shown into a courtyard, with an open ceiling, and take a seat at one of the tables setup with couches all around. The menu consists of two or three dishes, Tajine, Brochettes, or Couscous. We had the daily special, which was Tajine, (lamb & chicken, stewed with vegetables in a round earthenware pot), and a Moroccan salad. | | |
Being a great fan of spicy food I was a bit disappointed, as I had heard that the Moroccan cuisine was pretty spicy, in our case it wasn't. But the atmosphere was hard to beat. The food along with a couple of cups of Mint tea went down really well. So well in fact that the next day we came back and brought Martin with us who had just come down from Chafchaouen after we had spent the day climbing around the Roman city of Volubilis (check out the pictures).
The following day we did some more sightseeing, including the souks in the medina, around the medina, and the granaries. The souks and the medina in general, are not for the claustrophobic, very narrow lanes, with merchandise hanging out so that there is only room for two people side by side. Very dark, and pretty spooky. Not much hassle though, a couple of "where are you from", "special price for you my friend", and of course the old classic standby, "come in and have a look, it's free". Since we aren't actually shopping for anything we simply ignored them and continue walking, no big deal. The granaries were very impressive and definitely worth a look, even though they are pretty hard to find (no signs whatsoever).
After this our time in Meknes was overshadowed by rain, it started to rain and it got pretty cold, so cold in fact that we had frost on the bike, and it was sleeting in the morning. As we had wanted to do some research, we spent the time in the internet cafe or huddled in the campground in a corner of an unused restaurant. Here we setup the cooking utensils so that we had somewhere dry to cook, I even got the laptop out and did some work huddled in the corner until it got so cold I couldn't type anymore. The people in the campground felt pretty sorry for us, they told us to put the tent up in there too, but there wasn't enough room, and with all the rain, in the end it was wet in there also. (it was open on 2 sides)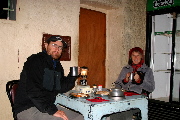 In general Meknes is a great introduction into Morocco, not much hassle, fairly easy to get around, compact and not as touristy as some other towns. After 10 days (5 of rain), we had had enough and headed south, next stop El Jadida.
El Jadida
From Meknes, we tried taking some back roads to the coast and then south on the highway in order to bypass Casablanca. On the way to the coast, we went through some very nice country, mostly farmlands. Then we hit a gorge and more farmland on the other side. The gorge was very interesting since the river that flows through had a lot of water (because of all the rain, read above). See the Meknes to Jadida track for more detail. The toll road going down the coast is brand new and it is the first time I have had to dodge pedestrians, and various entrepreneurs who sit on the side of the road trying to sell something (usually vegetables or fish.), on a major highway. Never mind the signs that say stopping is not allowed!
El Jadida was interesting because of the Cite Portugaise, which is a fortified town which the Portuguese built, and more interestingly (for us anyway), was one of the places Orson Wells used during the filming of Othello. In particular he filmed a scene in the cistern (see pictures). I found the whole thing very interesting, not in the least because it was very small and natural (like in not overrun with tourist and the inherent traps), little town in itself. Although to be fair, in season, I have a feeling you won't be able to swing a dead cat without hitting a dozen tourists! But we enjoyed it nevertheless.The area around it is a very touristy seaside town (off season obviously), apparently during season, half of Casablanca is down here enjoying the beaches.
Click here for the next part (III)..
---
All Material is ©2010 by Khim Rojas and Fernweh Adventures