March 2006
20 Feb - 6 Mar 2006
Merzouga to Tangiers
Ouarzazate
After a long ride from Merzouga, we ended up in Ouarzazate. The road took us through a "tourist" corridor. Lots of tour buses, or 4x4 tourists on the road. The main sights around here are the various gorges and some scenic towns. None of which were on our agenda. We were headed for the movie capital of Morocco!
Ouarzazate was the first town since Agadir to have any real size or creature comforts (not for us of course). Plenty of tourist shops as this is one of the main stopping points for anyone coming through this part of Morocco. At the campground we met Paul and Stefan, Paul from Holland was headed "into the dunes" together with Renata and their Toyota 4x4. Stefan, on a Mercedes 1113 camper/truck was tagging along with them. We talked until it got too cold and went to bed, apparently Paul and Renata were real Africa experts having been down here quite a few times. For Stefan it was the second time, and the first with his "truck", so he was very curious how it would handle in the dunes. The following day they headed off and we went to see the Atlas studios for which we had come "all" this way.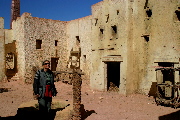 As far as studios go, this is very small and other than the fantastic backdrop and an integrated hotel, doesn't have anything. All film companies who work here, basically bring all their own gear, the studio provides the back lot and workmen for the sets that's it. Their tour took 40 minutes or so and covered the few sets they had standing, apparently the last movie shot here a new version of "The 10 Commandments" with Omar Sharif hasn't been released yet. The next movie also a bible epic will begin shooting at the end of March. (For picture click here.) The poor guide wasn't all that proficient in film making and couldn't really tell us much, her main job was working as a translator when there is a production going on.
A short stroll in the bazaar and tourist shops didn't reveal anything other than a Touareg scarf (turban), basically a 2.5 meter long piece of blue/black cloth which they wrap around their heads, faces or just to keep warm. The 2.5 meter version is the tourist version and asking price is around 180 dirhams (18 euros). The actual price, apparently, is around 10 drachms per meter, and the "original" ones are anywhere from 5 to 9 meters long! None of this was known to us at the time of course! We paid, 100 dirhams for our 2.5 meter tourist version plus a bag of dates, and are happy with it! The thing we really learned is how to tie it, which we made the salesman show us twice before we got the hang of it.
Marrakech
From Ouarzazate we traveled to Agadir where we spent the night in the same campground where we had been previously, and the following day went over the lowest passes we could find to Marrakech. There two other routes would have taken us up to 2000 meters, and it had recently snowed, and the temperature was very cold, so we decided to take the long way around. The route we took, only went up 1200 meters and was further south. It turned out to be cool, but no snow and no problem.
Marrakech is a large, hectic, for the most part modern town. It has a very large medina and souks area, with a huge plaza, which is not to be missed if you are here. We had arranged for mail to reach us here as we wanted to do some planning before heading east, as well as some maintenance on the bikes.
In Meknes, we had made the decision to head east and not south, so Cecilia has been busy organizing the required information. There were now a number of tasks which we had to take care of here; get ferry tickets, get our mail, organize a guide for Libya, check on required paperwork for Egypt, Jordan, Syria etc. So other than a day or two in the plaza and a stroll through the souks and medina, we didn't do much tourism wise.
| | |
| --- | --- |
| The souks and medina was very large, with the usual assortment of "stuff". Plenty of tourists to watch, but the real attraction is the large plaza "Djemna el-Fna". During the day it is fairly quiet, with lots of people plying their wares, henna tattoo artist, orange juice stands, dancers and drummers, acrobats, snake charmers etc. | |
| | |
| --- | --- |
| | At night the whole central part turns into an open air restaurant, with a large number of mobile kitchens setting up their little snack stands. At night the place fills with both tourists and locals, getting something to eat, watching the show and just enjoying the whole atmosphere, and of course more artists. |
A couple of things stood out about the Gjemna, first if you point a camera at someone, they will request a donation. Second, if the "donation" is deemed inadequate, they will ask for more! Stand for more than a second anywhere and someone will come up with a hat out. The tourist have enough of this after a while, and take refuge in the cafes which line the plaza, many of which have a balcony from which to "safely" watch the action. By the way, if you give something, don't be shy about keeping it small, no matter what the protestations may be, a smile and a laugh go a long way. Enjoy the fun.
| | |
| --- | --- |
| | This guy would sit around until some tourist showed up and then pose with his utensils, usually with the tourist acting the part of the patient, while a friend took their picture. That's it, and on the other side of the plaza, another guy was doing the exact same thing! Pretty good job, if you can get it! |
The campground was 14km outside of Marrakech so we always had to drive in to enjoy the fun, or get our errands done. And here driving takes on a whole new meaning. In a lane for one car, two would fit, and of course if two fit, there is certainly room for a third. Something the police watched with total disinterest. The cardinal rule for driving in Morocco, (and most of the "developing world") is if you are ahead of the guy next to you, even if it is only millimeters, you have the right of way. End of discussion. As I write this in my tent outside Tunis, I will try and remind myself to take some pictures of the traffic, as words cannot do it justice.
Our stay in Marrakech was marred by the fact that one of the packets we were expecting did not make it in time for us to leave. We talked to the people at the post, and they said that it would be sent back after 15 days, something which I am pretty skeptical about. The thing we miss the most, a number of maps and a couple of books which we needed where in that packet. C' est la Vie!
Tangiers
After Marrakech we headed north, through the plains in front of the Atlas Mountains towards Casablanca and the coast. The road is straight and true, nothing special and we arrived in Rabat or destination for the first day without incident.
As Murphy would have it, here for the first time we had an "issue". As they say about Rolls Royce's, they never break down, they only fail to proceed. Well, Cecilia's "Rolls" failed to proceed. At the camping it wouldn't start again. Dead as a door nail.
The following text is the same as in the faq: "So I pushed it to the camping spot, put up the tent and had a look. The battery wasn't turning over the engine, so I kicked started it. The bike ran fine, but the voltmeter was telling me that the system was generating 16-17volts, maximum should be around 13.8/14.2v!! So I changed the regulator which is the normal solution for this, no joy. There was still too much power going through the system, so I changed the diode board, that solved the problem. Now the system had the correct voltage, but of course the battery was "toast". It held no charge, measuring the battery showed 12.4v which is normal, but as soon as there was a load on it, it dropped to 3v!! So the race was on to find a battery (it was Saturday evening 18:30). I went into Rabat just before it started to rain, found an open scooter/bike shop and asked for the "largest" battery they had. Wonder of wonders, they showed up with a 12v 30amp battery which fit in the bike perfectly. Problem solved. This could have been a major problem, but only because we were booked on a ferry 300km away in Tangiers on Monday morning."
The next morning the rain let up and we got under way. In order to save time, we took the toll road to Tangiers, so it was hassle free and quick. The camping we choose was up in the hills just outside of Tangiers, which was nice as it was pretty quiet. We went back into Tangiers to have a look around and make our weekly phone call. We found a phone across from a park which bordered the beach. Again, as soon as we stopped, people would come over and start begging. One chap, spent the 15 minutes or so Cecilia was on the phone asking for money, in Spanish, every 20 seconds or so! Across the road in the park we watched a gentleman sniffing gasoline and throwing up. Not exactly a very pleasant place, nevertheless, the phone call went ok, plenty of snow in Switzerland apparently, and Cecilia's parents have decided to come and see us in Genoa when we get there.
Exit formalities Morocco (see Formalities: Morocco for the complete story)
Leaving Morocco, took a bit longer than entering, and went something like this:
Once inside the port following the signs to the Genoa ferry terminal, we were shown into a large warehouse, full of cars and people. Here you first had to get your boarding card for the ferry with the ticket or voucher. They had two people working the windows, and it took around 30 minutes to get there. In addition to the boarding card, you got the green exit paper, which you had to fill out and together with your passport take to the police line (single line this time), another 40 minutes later and you had the exit stamp in your passport.
Next you get on your bike and drive through customs (which had no interest in the bikes), and get in line behind the cars. A gentleman in uniform required your white and green temporary import documents for your vehicle, which we had gotten back in Ceuta. He would collect a whole row of these, then sign each one and return a copy. Next someone from the ferry would take your ticket, and finally another official, would check your exit stamp in the passport, and you were now free to drive onto the ferry.
And so ended our time in Morocco, the ferry ride itself was fairly uneventful, but for a couple of things.
- We left a little more than 3 hours late.
- We weren't told that our tickets covered food, so the first morning we ate in the cafeteria when we could have been in the restaurant.
- The ferry stopped for a couple of hours east of Marseille, no reason given.
Morocco last thoughts
- It is a beautiful country; very varied in geography, and the spectacular scenery make any visit here worthwhile.
- It is very easy to travel, good roads, good infrastructure (read gas stations).
- No real hassles, entry and exit are fairly straightforward if a bit slow.
- The people are friendly and helpful if approached.
- We heard a lot of bad things about Fes, but we never experience any real problems with hustlers or touts. A simple "la", or "la schukran", or simply ignoring them worked fine for us.
- In tourist areas, I found that though not dishonest, the people were, to say the least opportunistic. If you don't know what something costs, ask first, agree on a price, and make sure you count your change. And make sure you both are speaking about the same item/price. If in doubt have them write it down. Don't mistake dishonesty for ignorance, many simply cannot add, be firm, but polite.
To give you some idea of the prices which we paid (the exchange rate, ~10dihrams = 1euro):
- Toilet - 1dirahm
- Parking - 1 dirham (some places like Essaouira or Volubilis, they like to start at 10, but will take 5 and if you want to pay less you may have to try a couple of parking spots.
- Bread - 1.20 / 1.50 dirhams
- Eggs - .80 / 1 dirham
- Mint tea - 6 / 10 dirhams
- Helpers at the border - 5 / 10 dirhams
- Oranges - 4 / 5 dirhams / kg
- Potatoes, Carrots - 4 dirhams / kg
- Gas, unleaded - 10.7 dirhams/lt
- Gas super (Tan Tan Plage and further south) - 7.0 dirhams/lt
- A meal for 2 in a Riad Restaurant (Meknes) - ~300 dirhams
- A roast chicken (with french fries and bread, and sometimes with stuffing and rice) - 70/80 dirhams
- A meal for 2 in a "simple" restaurant - ~120/150 dirhams
---
All Material is ©2010 by Khim Rojas and Fernweh Adventures