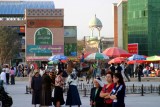 At the top of the Torugart we had to wait around 40 minutes for our Chinese guide before being allowed to pass. There were a group of them, as they were all allowed to pass through around the same time, so a fairly large group of cars, small busses and two motorcycles made their way down the Chinese side of Torugart. The road up here (3700 m) was pretty bad as lots of Chinese trucks use this route. The Kyrgyzstan side isn't too scenic, when compared to say, Tash Rabat, but as soon as you get over the pass to the Chinese side, it gets very interesting.
The mountains rise up dramatically on both sides, and the road is a lot steeper than on the Kyrgyzstan side. A few km later we stop at the first customs checkpoint on the Chinese side, here all our luggage is x-rayed. We then put the luggage in the guide's car and continue along a very long, wide and wild valley. If the road had been better it would have been a really enjoyable ride, as it was we had to concentrate very hard on the road. Nevertheless it was a lot of fun.
At the bottom we finally hit the Chinese immigration point, where the Chinese were very efficient and friendly and it only took us 20 minutes or so to get through. We received new drivers licenses, and motorcycle papers, as well as license plates, all in Chinese. These had all been brought by the guide who has to arrange for these ahead of time. There were some additional customs formalities which our guide(s) took care of, we just waited outside, a real luxury.
For the overview, check out Formalities: China
From here we then drove the last 60 km to Kashgar where the guide dropped us off at a nice hotel and left.
We were now in China, OK maybe not quite, this is the Xianjing province, which actually used to have a minority of Han people, until the central government started importing them en mass. Our guide admitted that he spoke practically no Chinese (Mandarin) and has to take courses. The people on the street are a mix of Kyrgyzstan, Mongolian, Chinese, Russian, a truly interesting mix. All as it should be for one of the greatest trading centers of the old (and new) silk roads. At the core though, it is a large city, with the few interesting things hidden away in the old town, or residential areas, which Cecilia took a quick look at. I simply enjoyed the ambiances of a very large, and varied mix of people.
After three days it was time to move on to Pakistan, with a quick stop at Karakul lake and in Tash Kurgan, where the Chinese immigration is. Compared to the lakes we had enjoyed in Mongolia and Kyrgyzstan, Karakul was just a tourist trap, not worth the effort or cost. (There is an entrance fee!) Keep going and just around the corner is a group of Yurts, where you are welcomed to stay and are treated to a real authentic slice of life in this part of the world. The family simply vacates their Yurt and stays with the neighbors while you get to sleep in theirs. They feed you and you get to spend a few hours appreciating how hard and simple their lifestyle is. A real treat. My favorite part was watching the wife make noodles for Laghman, a typical noodle soup dish eaten everywhere here.
The following day, we headed to Tash Kurgan, via a little side trip. The Karakoram highway goes over a 4000 meter pass near a glacier, here it is possible to take a jeep track to where the glacier is coming down the side of the mountain. Something we decided to do. We made it up to around 4529 meters, where the jeep couldn't make it over a steep incline, and we decided it wasn't worth trying it on the bikes either. So we parked, and Cecilia and the guides walked the remaining 150 (vertical) meters to the face of the glacier at the bottom of the mountain!! Keep in mind the highest mountain in Europe is Mt. Blanc at around 4800 meters! Here the mountain started at that height. The mountain in question was around 7700 meters, so it towered above where we were. Really spectacular.The bikes had very little power at this altitude, but they ran, with no modifications whatsoever. Dirty air filters, carburetors out of adjustment, valves not properly set. It is a real testament to German engineering that they didn't have any problems. My attitude was ride them 'till they drop, then I will fix whatever that is wrong. Luckily I didn't have to do anything.
We reached Tash Kurgan and settled in the hotel for the night, with a little side trip to a local welder to weld a broken box frame, a 5 minute job, costing a total of 1.50$. The following morning we went to the Chinese immigration and took care of the exit formalities. The efficiency and thoroughness, meant that it was very slow, but of course nothing compared to Tashanta or Turkmenistan! So after 3 1/2 hours we were on our way. No more Chinese license plates, but we got to keep our licenses and various other documentation as souvenirs.
| | | |
| --- | --- | --- |
| | | |
The actual border to Pakistan was another 200 km further on along the Karakoram Highway. The road here absolutely perfect, totally flat, and for the most part pretty straight, as it runs through a very wide valley floor toward the Kunjerab pass. Along the way we got to glimpse the famous K2 mountain just off to our port side (left) as we were climbing up to 4700 meters where the pass is. Luckily for us it was a beautiful day and we got a great look at all the mountains around us. After two more quick checkpoints we were at the top of Kunjerab and in Pakistan. The lone guard here is just for looks, as all the formalities are taken care of many km further down in the valley.
This journal entry for China is a bit misleading, as the area which in we were can barely be considered China. The people, particularly outside the Kashi, were exactly was they had been in Kyrgyzstan, and more than likely, just as those in Tajikistan. I was told by my guide that he was taking mandarin lessons as he couldn't speak Chinese. Which in this part of the country could hardly be seen as a handicap. He also told me that the Chinese government was actively importing "Chinese" (the Han, larges population group in China) to this part of the country, in order to insure that the populations was suitably "diluted" for its taste.