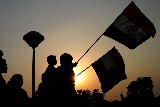 There is little subtlety to India (VS Naipaul)
The border at Wagah was fairly painless, if very thorough. They asked a lot of questions, and looked at all our luggage. But I guess since there weren't any other travelers they had the time.
While the officials were doing all their paperwork I was fascinated by the spectacle of porters unloading and loading trucks with what looked like rice (going from India to Pakistan). As we pulled up to the Indian border after passing immigration and customs in Pakistan, we found a line of porters dressed in blue leading up to the border gate, and there they get handed a bag of rice (100kg bags!), from another line of porters dressed in green from the India side. Exactly at the border line (shown by a large white line on the ground) one porter takes the load off his head and together they put it on the head of the other porter, and he "sprints" away with his load to the waiting truck. The opposite porter sprints back to get another load. I recon there were 50 porters on each side. The guards carrying bamboo canes kept order, making sure that there was always an orderly line. Occasionally a bag would fall, and no-one wanted to pick it up, since this involved time and considerable effort. So there was a delay until the guard, yelling and hitting his bamboo pole on the ground, insured that the next in line (receiving) together with the fellow behind, picked it up and took off. The guards also made sure that the porters did not put a single foot on the opposite side of the border!
In due time, the customs officials were satisfied with our documentation and our property and let us go without any undue haste.
For the overview, check out Formalities: India
Our first stop in India, Amritsar, where we found a wonderful little guest house; Mrs. Bhandari's (N31 38.504 E74 50.976). Anything good enough for Charlton Heston is good enough for us.
The two days in Amritsar where spent doing a little sightseeing and getting Cecilia to an eye doctor. The eye doctor was great, we hired a tuk tuk for the day and he took us to see a doctor arranged by the guest house. When we got there, we were taken straight in, and she was examined, and got a prescription for some eye drops which we got across the street. Everything for 150RS (4.16 Sfr). It was a slight infection and cleared up after a few days.
After this we headed over to have a quick look at the Golden Temple. This is the Sikhs holiest sight and was pretty busy (this being Sunday), so we elected to walk around the outside. The temple itself is pretty impressive, with the 100kg (220lbs) of gold applied to the domed roof and a lot of the outside of the building, hence the title Golden temple.
Down the road from the temple is Jallianwala Bagh, site of the notorious Jallianwala Bagh massacre, where the British killed 379 and wounded 1200 on the 13th of April 1919. Which influenced Gandhi to start the Non Co-operation Movement which became an important feature of resitance to British rule, which eventually helped India gain its independence. The area has been turned into a quiet park with plaques, a museum, and bullet holes as reminders of the events that occurred here. A very moving sight.
In the afternoon we made our way to the Wagah border to watch the flag lowering ceremony. A spectacle which is both, emotional and theatrical in equal parts. There is a lot of marching soldiers, cheering spectators, and an animator to insure that the crowd enjoys the show. The "show" is basically the lowering of the Pakistani and Indian flags by a troop of soldiers who goose step up and down to position themselves for their various duties. The flag itself is taken down in sync with the Pakistani flag, both sides making sure that neither flag is not lower than the other. Beforehand, the animator sends various spectators with the Indian flag running up to the border line and back, each time to tremendous cheers of the spectators. The flags then get handed around and people fight for the chance to wave it for a few minutes before passing them on. The same spectacle takes place on the Pakistani side, although the amount of spectators is only a fraction of that on the Indian side.
| | | |
| --- | --- | --- |
| | | |
After leaving Amritsar we headed south to Ganganagar in northern Rajasthan followed by Bikaner where we relaxed for a day. Our initial impressions of India cannot really be better explained than by the quote at the beginning of this journal entry. There really is not subtlety to India, everything is "over the top". It doesn't really matter what the theme is, whether politics, weather, religion, poverty, traffic, or economic growth, everything is done in over large quantities. It is easy to be overwhelmed by the sheer abundance of people, colors, noise, smells, or whatever. So either you will love it or hate it, but it will not be an ambiguous reaction!
For our part we loved it and continue to do so. Our primary goal was to reach Goa for a well deserved rest and to re-evaluate our goals. So we traveled very quickly, besides a day of rest in Bikaner, and again in Udaipur; we traveled every day as quickly as possible on the Indian roads. Which as everything else, are somewhere between wonderful and nearly empty (parts of Rajasthan), to horrific and crowded (around Jodhpur or near Mumbai, or indeed any Indian town).
Maybe a few words regarding driving on Indian roads might be in order. Basically, the Indians drive offensively and very aggressively. I don't mean that the way they drive offends (well maybe it does), rather they will assume that you will get out of the way. If not you will become a statistic, and appear in the local newspaper which without fail have multiple deaths every single day, which are refered to as "misfortunes". One of my favorites is the fact that their cars, trucks and bikes are extremely underpowered, and at every incline there is a hectic fight for positions trying to overtake the vehicle ahead of them. Regardless of what it is, inevitably, they will cause the oncoming traffic to move to the side make three lanes where there was previously barely enough room for two. Just part of the daily fun.
Another item which never fails to amaze me, is their propensity for passing in curves, the thinking being "if I can't see anyone coming, there must not be anyone coming", which of course nearly always leads to some very dangerous situations. All in all I am often in wonder that there are not more accidents. But like many other things in India, somehow it works out. North of Mumbai we were caught in a major traffic jam, made worse by the fact that the Indian drivers have no regards for each other, and little patience, so rather than get into an orderly line, they simply crossed the median, and blocked all four lanes, now no-one moved. Something which seemed to suit everyone. Although much more could be written, and probably has, about the vagaries of driving in India. One of the last things I am going to comment on, is another item which European drivers will notice very quickly, the horn. Indians (and Pakistanis) drive with their horns. Meaning, if a vehicles horn doesn't work, the vehicle is unfit to be driven, it is that important! They use it mainly to be noticed, as few drivers use or indeed have rear-view mirrors, and of course, as the classic "magic bullet". The "magic bullet" idea is basically that, if I honk my horn everyone else should get out of my way. The resulting cacophony is often hilarious. It doesn't matter whether it is used to get livestock off the road (they ignore the horns completely), or when stuck in a hopeless traffic jam, use your horn, if nothing else to let of some steam. As a helpful reminder, nearly all trucks, and many other vehicles for example, have written on the back for the chassis, "Honk OK Please".
Anyway, Bikaner, is a wonderful town with plenty of tourist, here for the various temples and a huge fort in the middle of town. Udaipur is even more impressive, lying around a beautiful lake. Jodhpur is of course famous for another huge fort at the top of the town, and also has a number of temples. All of which we missed! Rather I chose to see them at another time, at the moment I was only interested in getting to Goa, and off the bike for a while. By now we had covered over 55,000km since leaving home and we were looking forward to a break.
The country turned from lush green and hot, to dry brown and hotter, back to lush green and still hot as we moved from Punjab to Rajasthan, and then down to Gujarat, where it started to get humid as well. After that to Maharashtra and finally Goa.
One of the highlights besides those noted above was staying with a royal family in Gujarat at the Jambughoda palace (their family residence) (N22 22.744 E73 43.625). A difficult to find place, on a beautiful side road between Halol and Bodeli (both East of Vadodara in eastern Gujarat). We spent a wonderful evening while being regaled on how much land they used to own and how he lost his whole harvest last year, and this year they are planning on planting Sugarcane. The house is incredible, steeped in history and they will gladly tell you about it and their own family history. For those who are curious in this case, palace is not really a very good description of the house. It is a number of buildings situated around a large courtyard around which is a wall and large gate. Outside of which are more buildings dedicated mostly to the working farm. A number of rare fowl wandering around at will. Not to mention that the food is excellent and it is just wonderful place to spend time. (Again, we spent much too little time here.)
This is what it says about it in their brochure:
HH Maharana Vikramsinhji resides at the Palace with his family. The Jambughoda Royal Family are descendents of the Parmar Dynasty from Dhar in Madhya Pradesh. Their ancestors ruled the state till its merger with the Indian Union in 1948 for the greater good of its people and India.
A Home for Nature Lovers is a family run venture. It does not have liveried waiters, but personalised service and attention to details are in-built -- making the welcome warm and the stay memorable. The hosts are the very epitome of grace, civility, courtesy, hospitality and charm. Guests keep coming back to A Home for Nature Lovers for this reason. (Jambughoda Web Page)
Goa turns out to be a completely different world from the rest of India. Not surprisingly since it had been part of Portugal until 1961 and officially declared India's 25th state in 1985! The changes are most evident in all the churches and Christian trappings everywhere, something not seen anywhere else. This doesn't mean that that is all that there is, on the contrary, there are plenty other religions represented and their icons are also to be seen. But the Portuguese flavor is found everywhere, in the food, in the people and architecture.
Once in Goa, Cecilia and I went our separate ways. She spent a month or so in Varca getting a tan, reading, relaxing and being visited by her family. She also picked up running again on the over 50 kilometers of beach spanning from Cavelossim to Vaso da Gama. I spent my time in Benaulim. It was wonderful month, where I did absolutely nothing. Caught up on my reading and enjoyed the nearly empty beaches, as the tourist season hadn't really started yet. In the beginning of December Cecilia came to Benaulim and we spent the month getting the motorcycles fixed. Trying to overcome the damage which the last 60,000km had wrought on them. It turned out that that besides the crash damage from Pakistan, on her bike, the rear shock had a broken spring. After discussing how to best get a replacement. We decided that she would return to Switzerland for Christmas and pick up all the parts we need. So on the 31st of December she returned with 40kg of spare parts in a big suitcase. The next week was spent installing everything and testing that everything worked correctly.
| | | |
| --- | --- | --- |
| | | |
While here I did manage to catch some of the sights, including Dudhsagar falls and Old Goa as well as Anjuna market, all of which are on the Tourist route. Not to mention all the beaches up and down the coast (of southern Goa). The best of which is probably Agonda, at least for my taste. Dudhsagar was packed with Russian tourists, who have recently discovered Goa (in the last 3 years), Old Goa was packed with local tourists enjoying the various churches and religious sights, pretty much all that is left of this town which once numbered 300,000 people. Anjuna marked was just starting and was pretty quiet at least according to locals. The hippies, gen 1, 2, 3 and 4 were just starting to trickle back from their summer haunts (Kathmandu, Nepal apparently), gen 5 will show up later in the season. Cecilia had visited a spice plantation in Ponda and declared it very interesting with excellent food and entertainment. (If you are wondering who the generation 1, 2, 3, 4, and 5 hippies are, the first came in the 60's, then the 70's and so on. They are all here, or at least what is left of them, and are a tourist sight in their own right!)
After all this, the only thing that remains is the web site, and it should be completed shortly. This means that after a bit more than 3 months it will be time to leave Goa behind and move on with discovering India. In the next installment I will give you an overview of how I found Goa. Stay tuned.
The journal up to Goa, covers a quick trip south from the border at Wagah, and Amritsar.