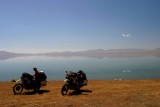 Getting out of Kazakhstan and into Kyrgyzstan through the border at Kegan was even easier than getting into Mongolia, we are starting to enjoy this. In total it took 15 minutes for both borders, unheard of in this part of the world. Maybe because it was a Sunday?
For the overview, check out Formalities: Kyrgyzstan
Kyrgyzstan turned out to be a real gem. Beautiful vistas, very friendly people, and some excellent (MC) roads. The first night we spent at the Turkestan Yurt camp in a "traditional" (tourist) Kyrgyzstan yurt, in Karakol. Cute, but the camp was really nice. All around the vistas had one mountain higher than the other, all covered with snow. We spent the next couple of days making our way toward the Chinese border with a couple of side trips along Lake Issyk-Kul, and Song Köl, both very scenic areas. Lake Issyk-Kul is a major tourist attraction (at least during the soviet era, now mostly abandoned, but slowly being rediscovered by western tourists, who mostly come here for the mountain trekking), not to mention that it was a testing ground for submarines during the cold war.
Song Köl is, at 3000 meters, a very high alpine lake. The northern shore nearly deserted, and perfect for some beautiful lakeside camping. To some extent we almost felt we were back in Mongolia. The vistas not quite as empty or large, but very similar. I should also note, that it was starting to get seriously cold up here. As soon as the passed its peak, it was time to get a thick sweater out. In the mornings, our bikes were covered with frost.
We spent our last night in Kyrgyzstan in a real Yurt near the old Caravan fort of Tash Rabat near the border to China. This was also a stop on the silk road, and is situated in a narrow valley which if followed up will end up on a very high plain and a lake (Chatyr Köl) along the Chinese border. The family we stayed with was extremely hospitable and the yurt very comfortable. One day I hope to come back here and spend more time, but we have to get to the border as there will be a guide waiting for us on the other side.
The following morning we made our way to the border. Before the first checkpoint, my motorcycle celebrated a momentous occasion, it turned over 300,000 km, so I stopped and took a picture.
The border was un-eventful. The Kyrgyzstan side only had a small objection to the fact that we had no Fax as invitation to enter China. They are aware of regulations that foreigners with their own vehicles require a guide on the Chinese side, and want to make sure that they don't have to re-process anyone that gets turned back. We showed them our e-mail invitation and they let us pass.
At the top of the Torugart we had to wait around 40 minutes for the Chinese guide before being allowed to pass.
All in all a great country to travel in. Again, much too little time was spent here. There are some fantastic treks to be made, and the vistas reminded us of home. Bring a lot of time, as the people are very friendly and it is worth the effort to make contact (sometimes hard to avoid too!).