On the 1st of April very early in the morning we headed off to the border (see Formalities: Tunisia, and Formalities: Libya) as we had agreed to meet the guide at 9:00 and we wanted to get there early. As we left the island of Djerba and hit Ben Gardane (the last town before the border), things got very interesting. On both sides of the roads there were stands selling everything possible, but mostly gasoline. It looked like people were selling/buying gasoline before the border. The deal is that fuel is a fraction of the cost in Libya so anyone going there will fill up and sell the fuel for a premium when returning to Tunisia. I speculated that people who had "excess" fuel would sell it, knowing they could replace it in Libya at a profit? Anyway, as we drove by, people were flagging us down to sell us currency, toilet paper, anything imaginable. Kind of made us wonder what it would be like in Libya. Keep in mind that this is a country that has been an international outcast for many years, and has only recently been rehabilitated, so we were very curious to see what it would be like.
At the border we basically breezed in and were nearly into Libya before someone flagged us down so that we could take care of the formalities and so we stopped and parked the bikes. The guide was nowhere to be found, although he had been recently sighted in the area! It turns out that although we were there at 8:30 our time, in crossing the border we had just lost 1hour so we were technically late. Anyway I am not going to recount the whole procedure as it is written elsewhere in these pages.
Libya: First Impressions
1 - Traffic is worse than anything seen before
2 - Much "poorer" than Tunisia
3 - No western influence (or very limited)
4 - Very inquisitive, and friendly people
5 - No tourism
6 - Italian influence
1: It was really incredible, we thought that Tunisia was bad, but the Libyans make lanes where there are none, and do it at absolutely full speed. Whenever they go anywhere it seems they will do so at the maximum speed that their vehicles can manage. This goes for all, vehicles, from a donkey cart, to 18 wheelers!
2: As soon as we crossed the border, the towns seemed much less developed than what we had previously seen in Tunisia. Plenty of street side stalls, and lots of people on the move.
3: Very little "western" influence. Little advertising of western brands, cars mostly Japanese or Korean.
4: As always very inquisitive, and friendly people, and they really enjoyed trying to talk to you. Where previously people would only stare and point, the Libyan would come over and try to ask questions, and offer help. Also we here we are a very popular photo subject. People would take pictures of us with handys, cameras and camcorders, out of passing cars or while we were stopped.
5: As we entered the country it was clear that very little tourism is active here. Only later did we run into tourists (only briefly). Outside of Tripoli we saw virtually no tourists. This made every contact with the people that much nicer and open.
6: One of the first things we noticed, was the excellent coffee drunk everywhere. No, matter how small the town, every single place which sells food, or drink, will have a great coffee machine, and everyone drinking cappuccinos. This along with the many people who could definitely have come straight from Rome.

A church used as a Judo/Karate studio
Tripoli
After the guide, Mr. Haji, showed up and took care of the formalities we followed the guide and headed to Zuara where his offices are and we paid and took care of the details. It turns out that we would be guided by someone else and he was just taking care of getting us into the country. Mr. Haji is the owner of the tour company, and he arranged for someone else to take us around. This person wasn't there yet so we waited for him.

Taher, our guide
In the meanwhile we paid; cash. As he explained it is very difficult and expensive to wire money, and credit cards are not very wide spread (if at all, outside Tripoli). Again, signs of how different Libya is compared to the west. We went over the itinerary, and we explained that we first had to take care of some details in Tripoli (the visa for Syria). While waiting we were offered tea or something to drink, we accepted, and as a matter of course we then had to use the lavatory. This made for an interesting situation. First, it turns out he had none in his office? Well, that is what he made us understand, something about it being re-modeled. The restaurant next door didn't have one either! What? So it went, until Mr. Haji took us over to a mobile phone shop, where he spoke briefly with the young man there, he then took us around the corner to his house! There he showed us the bathroom, unfortunately it was occupied, so he pounded on the door and 5 minutes later, literally kicked this old lady out! Cecilia was so embarrassed that she wanted to leave, a bit awkward but ok, when you have to go, you have to go. Is this a preview of things to come? Very surreal actually, but in the end it worked out just fine.
The driver, Taher, showed up with a 4x4, and Mr. Haji assured us that for the next 10 days or so this was our vehicle. He introduced us to Taher, and it turned out that he didn't speak any English, German, French, Spanish, or anything else other than Arabic, for that matter. Our Arabic was not very good, but we figured that we would manage. We then unloaded our luggage into the jeep, which made our ride a lot more enjoyable. Specially, considering how much we had to just get out of peoples way. We made sure that we explained that we drive very slow (around 80kmh), and so the driver would speed of, and then notice we just weren't there, so he would have to go very slow until we caught up. It took a few kilometers until we got used to each other. He compromised by going a little slower, and we went a little faster than we really would have liked. We made it to Tripoli ok, the country was pretty much the same as it had been in the southern part of Tunisia, namely sparsely populated shrub desert, and this all the way to Tripoli. Tripoli itself is a "modern" city, but again with little western influence. The traffic was pretty bad and Taher took us straight to the tourist hotel area where we were going to try a "reasonable" priced hotel. Unfortunately this one was closed, and the one next door was way over our budget. Taher then proceeded to make some phone calls, 30 minutes later 2 guys showed up and got into a discussion with Taher. They took off and came back 15 minutes later, we then proceeded a couple of hundred meters further back along the beach road to a "local" hotel. Here, they showed us a room on one of the upper floors and asked 40Dinars for it. We found that this was too much and I made this clear to Taher. His friends went looking for another hotel, and they eventually came back saying that the cheapest we were going to find was 30Dinars. So using this information, I tried talking to the lady at the hotel and in the end we took a room on a lower floor for 30Dinars. Very expensive considering the room was a real dump, in a dumpy hotel! (here the co-ordinates in case anyone is really desperate (N32 53.209 E13 09.820). Luckily they had a nice place for the bikes, in a electrical service room. Although it took 4 guys and a grate from a ditch to make a ramp, we did get the bikes in and locked down. After that, we arranged for Taher to show up in the morning so that we could go to the Syrian embassy and deal with the visa situation.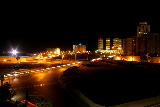 Hotel area at night
Our first night in Tripoli was spent walking around checking out the area around town. We really enjoyed the "authenticity" of everything. In the end we walked all the way out to the "Green" square, which is the hub of Tripoli. It is right across from the port, and a number of the main roads all end/start here. It is also where the souks are and the start of the main shopping roads. Here we did spy one or two tourists, but that was it. We went looking for a bank machine to get some money, unfortunately no luck. There were a couple of machines, but none would take our cards (any of them). We had changed some money at the border so we had enough cash for walking around, but we were worried about the costs for the visas. By now we were pretty tired so we called it a night after stopping in a small restaurant where we had some food at a very reasonable cost. So at least the food wasn't going to be too expensive, even if the accommodations were overpriced.
Syrian Visa
| | |
| --- | --- |
| In the morning, Taher showed up with a Taxi. Apparently he had parked the car and arranged for a taxi so that he didn't have to drive himself. Anyway, we gave him the address of the Swiss embassy, where we wanted to go first, and get the recommendation letter which we thought would help us get the visa. The embassy was extremely helpful and provided us with the letter, which we then took over to the Syrian embassy. They took one look, made a correction and gave us two visa applications. The gentleman didn't speak any English, and wasn't very friendly. We took the form, and filled it out in English and tried returning it to him. He then made it clear that we had to fill out the form in Arabic and there was an error in the Swiss recommendation letter. All this through the Taxi driver who had been pulled out of the taxi to provide translation services, as he was the only one who could speak at least a few words of English. | |
So back to the Swiss embassy. Here the taxi driver explained the situation to the Libyan employee at the embassy. They now corrected the the form, apparently Switzerland and Syria in arabic, are only one letter apart, and the guy who wrote the letter had misspelled the title, so it read "The Islamic Republic of Switzerland"! Afterwards, we went into the back room together with an embassy employee, who then proceeded to fill out the form in Arabic for us. What service! We didn't even have to pay again (all consular services carry a standard charge, for recommendation letter it is 40dinars).
Then it was back to the Syrian embassy, where we turned in the paperwork. We waited a while and were called back, through the taxi driver they asked for money for the visa, as we didn't have enough, the taxi driver paid for us! They then told us to come back in a couple of hours to pick-up our visa! So next we headed to find a bank to change money. As our credit cards weren't accepted anywhere, we would have to change dollars or euros to dinars. We first went to the central bank, and together with Taher went up to where they changed foreign currency. At the counter, we were told that they couldn't do it? The explanation of why wasn't really clear. So next we went to another bank, with the same result. They recommended that we go to one of the tourist hotels, which is what we proceeded to do. There, strangely enough was an ATM machine, so we tried it. No luck of course. But it showed that there were ATM around which would take our cards (at least it said so on the machine). Now we tried the front desk, the hotel itself was extremely busy with tourists packing up and leaving. These were the remainder of the eclipse tourists, who had come to Libya to see the total eclipse of the sun, which had happened on the 29th. They pointed us to a window around the side. Here they took our money and gave us dinars, so we were all set. I paid back the taxi driver as soon as I got into the cab, and we headed back to Syrian embassy, yes, this excursion had taken over two hours! Here we got our visas handed to us, and our biggest worry was over. Fantastic. After this we had the taxi drop us off at the hotel. As we were getting out the driver wanted me to pay him 50 dinars for his services that day. I explained to him and Taher that we were already paying a lot more than that for a car which was in a garage, and had no intention of paying more. If it had been 10-20 I might have paid without making a fuss, since he had been very helpful. To resolve the problem we called Mr. Haji and I explained the situation, and he agreed with me, and spoke with Taher who then dealt with the issue, I nevertheless gave the driver a 10dinar "tip" for his help. I assume that Taher had made a deal with him anyway when he arranged his services, so I had no problem with this solution. We had our visas, and that was the most important thing.
| | | |
| --- | --- | --- |
| In the afternoon, we walked into town, and checked out the opening of the trade fair which was going on in the middle of town. The road had been blocked off, and it was great walking in the middle of the road on one of the busiest roads in Tripoli during rush hour no less. We even visited the Swiss pavilion where we ran into the guys from the embassy again. We reported our success and thanked them for their help, got some chocolate and left. Then we visited the the souks and some of the old parts of Tripoli. While I tried to photograph the square, I climbed up some stairs on a podium, on one side of the square. Before long someone with an automatic weapon got out of a car by the side of the road and waving wildly for me to come down. | | I had apparently climbed up somewhere I wasn't allowed. The guard at the bottom had taken a quick break and we hadn't noticed that it wasn't allowed (there weren't any signs, and nothing was roped off). So while the guy with the weapon went searching for the guard, we slowly left the area! Apparently this is a podium used by Kadaffi when speaking to his people, and the stairs I climbed up lead to a military base in an old fort. |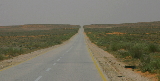 Ghadames
| | | |
| --- | --- | --- |
| | The following morning, Taher showed up and we got our stuff packed and the bikes out of "storage", and in short order headed out of town. The plan was to drop the bikes off at Taher's house after which we headed south-west to Ghadames. This worked out wonderful, as it would allow us to go into the desert where our bikes wouldn't have made it. As soon as we left Tripoli, we were back in the desert. The road to Ghadames basically goes through scrub desert, lots and lots of it. Occasionally, there would be sand dunes in the horizon. We quickly realized that we knew very little of Libya. It is big, very, very, very, big, and there is practically nothing there! Just lots of empty space, wonderful. It took us 8 1/2 hours to drive to Ghadames, and in all that time, we only passed a few small dusty towns and an occasional gas station, but that was all. | |
| | |
| --- | --- |
| Once in Ghadames we explaining to Taher that we wanted to camp, so we set off looking for a campsite, eventually finding one in a local hotel, where we set up camp. We then took a tour around town, and when we asked Taher, what do tourist come here to see, he dropped us off at the side of an oasis and waved in the general direction of a white building. So off we went to discover Ghadames. It was totally awesome. It turns out that it is a very old town, built in the middle of this oasis, comprising of tunnels underground where everyone lives. Today there are apparently still 16,000 people here. We only saw a handful, here and there. Most of the functional building above ground were painted white. The old relics were just mud and crumbling. As it was late we didn't stay long and just made a quick walk through, but we found it fascinating. That evening we had a "traditional" dinner of Camel meat Tajin, which was ok. Basically stewed meat with some vegetables. The following morning, Cecilia spent an hour walking around town, while Taher and I relaxed with some breakfast. She came back reporting that there was a lot more to this underground town than we had managed to see the previous evening, and it would take a couple of days to explore it all, which we unfortunately couldn't afford, so off we went towards Sabha, which was nearly 900km away! | |

Ghat
We got to Sabha pretty late after an exhausting 10hour drive. Again the same scenery, desert, desert, desert, and more desert. Very few small settlements here and there. A few nomadic encampments, but otherwise totally empty landscape. We loved it! It may have been empty but it was always changing, different colors, textures, and light made it always different. Sometimes, there were lots of sparse vegetation, sometimes everything was covered in small black rocks. Occasionally sand dunes came up to the road. It was nevertheless very tiring just sitting in a car this whole time, with only a few breaks here and there. So we were very happy when we made it to Sabha and the camping there. It is basically a wilderness lodge, only that the animals are in cages. But the place is very orderly and quiet, and fairly reasonable, so we were very happy to setup camp and crash. The following day we were headed further south to Ghat, and the Akkakus range which is what we wanted to see, and that is what we did the following morning. Nearing Ghat the landscape changed and became mountainous, well, there were peaks in the skyline. As we neared they were sizable "hills" with very spiky profiles, and looked like a city skyline, which is what I though it was for a while. The mountains are totally barren rock peaks, many with huge sand dunes pressing against their sides. In general there would be lots of empty ground, and then a ridge of sand running along in one direction or other, with the mountains (or hills) as a backdrop. Very nice, additionally the coloration was very dramatic, red, red, sand, with black mountains and hills. This is what we came for, and it was easy to see the draw. We have never seen anything like this anywhere. We drove all the way into Ghat which is another dusty way station, near the border to Algeria (which was closed, as we had wanted to go over a southern pass and come up from the south back on the inside of the range). There is a ghost town here which is a tourist draw, but we balked at paying an entrance fee to see crumbling mud work, so we took some pictures from the outside and went to our campground. We were pretty tired anyway.

Akkakus range
Since we weren't allowed to go the southern route we headed back north and went into the Akkakus range from Sardalas. The problem was that there weren't any tracks into the range running east/west, so one either had to go from the south or from the north and basically exit at the north end. Which is exactly what we did in the end. As soon as we left the outskirts of Sardalas and headed south, the landscape became very "special", see Pictures Libya, the pictures tell a thousand words. The most interesting part besides the landscape was just being in deep sand and doing some serious 4x4 off-road driving. Something which we simply cannot do on our "over" loaded motorcycles. We certainly found it a lot of fun, not to mention unbelievable what terrain, a vehicle can manage, in the hands of someone who knows the area and how to do it. I resolved to someday do more of this (in a 4x4).
Once deep into the mountain range we went from attraction to attraction with our guide. This was his area of expertise, and he knew where every rock painting, and rock sculpture was. So for three days we went around this area looking at the various sights. But the real attraction is the desert itself, in the morning with the light red, and orange, colors, in the evening with the deep red and in the evening with the millions of stars lighting up the sky and total quiet of the desert night. We could have spent weeks out here. On the last day we even asked him to skip any more paintings and just drive around the area which we enjoyed even more than seeing another cave painting!
Anyone who goes to Libya should check this out, the only draw back is that it is far away from anything, I mean really far. I didn't check, but there are probably airports in the area, which is probably the only feasible way to come and visit, otherwise one would spend the whole vacation just driving around.
Some tips for those who have never done any desert camping.
- Bring water, as much as is feasible to carry. I recommend at least 10 liters per person per day (minimum). There are a couple of wells in the Akkakus range if you know where to find them.
- Learn how to deal with flies. This is one of my pet peeves. You always see these wonderful pictures of the pristine desert and endless horizons. What they don't show are all the flies. We have plenty of experience with these little pests (Australia, for example), and here they are out in force. Whenever you stop there they are. I recommend a desert turban (see picture above), and sunglasses. Important is to be able to deal with them because otherwise they will drive you nuts. Luckily in the evening they go to bed, so you can enjoy a starry sky in peace!
- Learn to stay out of the sun. This isn't your normal European summer day. The heat is intense and the sun will toast you in no time flat. During our stay (which is pretty late spring), we had temperatures in the low 40's Celsius (record was 44.5°C, or 112.10°F). In the summer it gets hot here. We were making jokes how the locals always find the shade while the tourists are always looking for the sun!
- Burn toilet paper. It is incredible the amount of toilet paper blowing around the desert. Burying it doesn't help as it invariably gets loose (shifting sands, animals, etc.), so the only way to dispose of it permanently is to set it alight. (or pack it out again, see next point)
- Take your garbage out with you, and tell your driver to do the same. If you dispose of it in the nearest town when you get out of the deep desert, they will return it to the desert by dumping it just outside of town. But at least this way it is more or less all in the same area!
- If you want a "romantic" fire, bring your own wood. Camel dung fires are overrated, and you aren't going to find much wood in the desert.

To the border
After the three days in the desert it was time to head back, as it would take us another few days just to get out of the country! We headed north to Sabha where we stayed in the same place, and on the following day picked up our bikes and started to head towards the border. When we picked up our bikes we also changed drivers and cars. As the jeep was needed for another tour we were shuffled off to a normal street vehicle with another driver, Mahmoud. For the next three days it was drive, drive, drive straight to the nearest border which was Musa Id/As Sallum. There isn't much to say about this. Lots of empty country, interspersed with small to midsize towns, and along the Mediterranean plenty of industrial areas. Once we got away from the coast, there is a new road which heads straight across the desert. The road is 380km or so, and nearly completely straight, and there is absolutely nothing there. In the middle there is a provisional rest area, gas station, while a permanent is being build next door. At the other end of this road, you are pretty much at the coast again, and are just south of Tobruk. Nearby we found a large rest area where they allowed us to setup our tent, and we spent our last night in Libya.

This area used to be mined until 10 years ago! (Big Boom, as our driver called it)
Guides
It has been wonderful, but short. The country is just too big and the distances too far to do a quick trip. Take your time and enjoy it. In particular we would have liked to do it without a guide. Having a guide/driver made it very awkward for us. We are used to making quick decisions and going our own way. A guide made it difficult to do what we wanted, not only because of the language difficulties, but also because of the nature of the situation. We are simply too shy to override a decision made or change something at spur of the moment, because it causes considerable effort on the parts of third persons, something we don't like to enforce, not even when we are paying for the privilege. In short you are not as free to act as you would like.

Libya: Last Impressions
- It is a big, very, very, very big country.
- There isn't much here, plenty of open spaces and some fantastic scenery.
- People are the most friendly and generous we have met to date. Really surprising actually (unfortunately).
- Traffic is the worst to date! (not the quantity, but the quality!)
- Country is more conservative than Tunisia and Morocco.
- No more 'normal' bread. Once we had left Tunisia behind us there were no more baguettes. From now on it was 'chobs', flatbread.
- Learned a lot of Arabic expressions from our guides, like 'hai nimm shuh'= let's go!
Libya, has a lot of surprises in store for you. Not the least of which is the fact that it is huge and for the most part empty. Some of the most boring driving we have done in a long, long time. But at the end of it the Akkakus range, or Ghadamis, make it all worth while. Don't miss it, get here before everyone else finds out about it..