Syria: First Impressions
1 - Poorer than Jordan
2 - Much less reserved about greeting and talking to us
3 - More Christian than further south.
4 - Country less arid than further south
1: As soon as we got across the border into the first town, it was immediately clear that this country was not as prosperous as Jordan. It is a lot more like Egypt, Libya or Morocco. Roads in disrepair, open sewage, etc.
2: People were literally hanging out the windows of passing cars to yell, and wave at us. I am surprise no-one fell out.
3: Even in the far south we would run across, Christian churches and other signs of christianity (wome not wearing the traditional muslim headscarfs.) In the north it is pretty extreme, as Christian symbols, crosses, churches, cemetaries with the graves not facing east, were just some of the indications of the religion practiced.
4: Almost as soon as we crossed the border, it seemed that the country was not as arid as further south. North of Damascus it becomes totally clear, here they get quite a bit more rainfall, than their southern neighboor.
Damascus
After a few last minutes errands in Irbid we all got on the road and headed for the little used border at Ar Ramtha. The Jordan side was nearly empty, we just drove in, they checked the carnets, and sent us further on. Check out the usual, Formalities: Jordan and Formalities: Syria for full details. It seems we had chosen the hottest day of the year to do this as we measured 44.6C on our computers.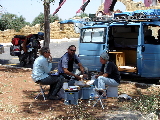 Once in Syria we rode past the first town and stopped at the first shade we found, on the outskirts of town, in the empty parking lot of an amusement park! Anyway, as soon as we parked, the people minding the gate at the amusement park came over and invited us inside, which we politely declined as we had a picnic planned. While sitting there having a wonderful picnic nearly every car that passed would honk and yell "hello welcome" and continue. Really great. They were all very interested in our motorbikes, something that Manuela and Francesco had not really gotten used to yet. People always wave, stare and often nearly get into accidents by watching us instead of the road. One of the things that very often happens, is someone would pass us, slow down and let us pass them, and then pass us again. The second time around they would have their camera out or their mobile phone and take a picture of us as they passed us.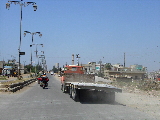 After the picnic we headed to Damascus and a campground there. The road was pretty straight (we avoided the highway and took the "old" road), but would go through all the little towns on the way, and they were all fascinating. Lots and lots of potholes, and speed bumps which are completely invisible until you are on the other side (minus some luggage and a helmet maybe!). To the left the Golan Heights seemed to have snow on them, even though as I mentioned previously it was very hot down on the plains where we were.
Nearing Damascus we were more and more reminded of Cairo, lots of traffic, noise, heat, confusion and more heat. With a few wrong turns and a small sightseeing tour we found the camping, which turned out to be a real haven, a bit noisy but excellent camping, with a heafty european price tag. Oh, well, it is still cheaper than a hotel.
We settled down for the night, cooked some dinner together with Francesco and Manuela (they cooked, we ate), and enjoyed the cooler night air.
The following day we had a leisurely breakfast before heading into town in a taxi, no-one wanted to drive in this mess. We had all survived Cairo and weren't eager for a repetition. The first order of business was cashing some American Express travelers checks, as Manuela and Francesco needed money. The main bank said no, they couldn't cash American Express Travelers checks because of the embargo the U.S. had placed on Syria. So we decided to try the Amex office in town. Guess what, American Express Syria, would not cash their own checks. Unbelievable. We where all completely speechless, oh, well. The next stop an ATM machine, where they managed to get some money. After that we headed for the Souks and Old town.
The souks are something really spectacular. (see Pictures: Syria) A high ceiling encloses the whole area with shops on either sides selling everything imaginable. What struck us the most, not just in the souks but in Damascus in general is how "real" it all is. There is little external influence so everything here is "natural" for a lack of a better description. There is little if any tourism, and everyone is very open and friendly, even more than the Egyptians who all (to a man) would say "Hello you are Welcome", hey why not, they (the egyptians) know that foreigners pay double what the locals pay, right! The Syrians are much more natural and less annoying, making it a truly enjoyable place to just walk around and enjoy the sights and sounds.
We spent two days walking around the souks, soaking in the sights and sounds (not to mention the smells). Cecilia and Francesco together with Manuela spent a couple of hours purchasing some copper serving plates. In the end they got the price down more than 60% from the opening bid and they bought 4 plates. 1 for us and three of varying sizes for them. They already offered to take our plate back to Switzerland for us as we could not have carried it. Our first souvenier on this trip!

On our second night in town we enjoyed an excellent dinner in the Old Town of Damascus, at the restaurant Jabri House. The eating area is in a large courtyard with a fountain and tons of fans. They also have a patio and it is frequented mostly by locals. The food is excellent and served very quickly. I recommend the "House Chicken" which is heavenly. Oh, and it is all very reasonably priced. For 4 people we spent 800 Syrian Pounds around 18Sfr. Including a water pipe which Francesco had to enjoy by himself as no-one else smoked. By the way, that is another thing that is endemic, everywhere you go there are restaurants or cafe's where waterpipes are smoked (nearly always by men only). Nevertheless it was a very enjoyable evening. Another quick tip, if anyone ever comes this way, make sure you plan to spend at least one evening wandering around the old town, it is really delightful with lots of little alleys, and byways. A bit touristy (when I said that there were few if any tourists, I meant West European tourists, as there are quite a bit "local" arabian/mid-eastern tourists), but well worth it. At night the heat is tolerable and the people are all out, not to mention the lighting which gives the whole town a little of the 1001 Nights feel.

Krac du Chevalier
After leaving Damascus we headed to Krac Du Chevalier a little north west of Damascus. This is one of the best preserved castles in the region. It is on top of a mountain (ok, hill for us Swiss), and is visible for miles around. The whole area where it stands is hill after hill, and there is no straight way to get to this place. It always seemed that there was another hill to go around or over on the way there. The roads are all very small and pretty dangerous, but we made it ok. The ride was a lot of fun, plenty of curves (obviously) and not too much traffic. Around every corner another beautiful panorama of small towns clustered on the sides of hills, with orchards and small farms taking the rest of the space.
At the Krac Du Chevalier we saw our Swiss friends Manuela and Francesco again, we parked next to their van and saw them waving at us from the top of the castle. We set up camp and went to have a look ourselves. It was definitely the most interesting castle I can recall having seen. You were allowed to walk everywhere, and there was a lot to see. Plenty of hidden nooks and crannies. We first walked around the outer walls, checked out the Turkish baths (bring a flashlight, as there are no lights). One passage goes down three stories or so and just dead ends into a closed tunnel. Later we speculated that maybe the dungeons where down here. Afterwards we entered the inner fortifications and walked along the inside wall, checking out the storage area with their oil storage jars still visible in the floor. Finally after two hours or peering around corners and shining our flashlights into every dark niche we could find we went to the top ramparts and enjoyed the view from the towers. Spectacular, towards the north east you could see the Mediterranean. Below, you could see far into the plains and you had a good view all around. No wonder this castle has never been conquered, by force at least. The outer walls had been breached, but the inner castle held, until the attacker used guile to overcome the defenders. He faked a message from their compatriots on the coast to surrender, and were given safe passage to the coast!


Back at the campground, Francesco and Manuela had gone shopping and bought some meat for grilling. So that is exactly what we did. After we had finished the manager came over and he and Francesco fired up a water pipe by our campfire. An excellent finish to the day.
The following morning we headed towards Hama, where there are Roman era water wheels, which are supposed to be very interesting.
As soon as we came down from the mountain, the heat hit us. Our computers both showed 49C (in the shade!), for you on the wrong side of the pond this translates to 120F! I cannot recall ever being anywhere where it was this hot. It was actually, cooler with my visor down on my helmet, rather than letting the outside air in! By the time we hit Hama we were all really tired, and looking for any shade we could find. We though that it was hot in Aswan or Libya where we previously had 43C-44C, and yes there is a difference in the extra few degrees. Anyway, we decided that we would find a cheap hotel and get out of our traveling clothes and cool off before doing any sightseeing. Luckily there were three hotels (all listed in our guidebooks, as reasonable) nearby, so I went and checked two of them out. The hotel Riad won the contest by being the friendliest (talk to Abdullah), not to mention giving us the best rate. We parked the bikes in the middle of the sidewalk in front of the hotel, unpacked everything, and spent the next few hours re-hydrating and relaxing in the hotel. It is really amazing, the moment you got out of the sun into the hotel the temperature dropped what seemed like 20C (actually only 10). Manuela actually caught a cold!

Later in the early evening, sufficiently recovered, we headed the couple of hundred meters to the park where the water wheel(s) where. The park was pretty packed, no real surprise with this heat. It was shady and there was plenty of water all around so it was very cool. The wheel(s) themselves were really fascinating. It is large around 20 meters or so, and is very noisy. It moves water from the river to an aqueduct which supplied water to the town, and it is still operational! Another one across the way wasn't turning, but the one was enough. There are apparently quite a large number of these things here. We watched it go around and around for a while, and interestingly enough, it sometime almost stopped before getting going again. I guess the water flow varied. We found it so interesting that we decided to go and see a couple of others nearby, so we walked 2km along the river to another area where there were a couple of these things still running. These were only decorative and were hidden behind a row of riverside restaurants. We went in and had a quick look, without buying anything (the waiter hovering nearby). Here there is one large one like the one in the central park, but additionally there are two smaller ones next to it. All together they made quite a racket, and an impression. The pieces of the aqueduct can still be seen, and when you consider they have been around nearly 2000 years it is pretty impressive. What interested us the most is the fact that they are made of wood, and they can be modified to carry more or less water by adding additional "scoops". Francesco and I speculated that, the central log on which the wheels turn, doesn't wear down because it is constantly wet. Maybe, maybe not.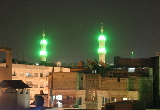 We spent the following day just lounging about the hotel and doing the odd errand or two, before heading off to the north and the Sal-adin castle, while Francesco and Manuela waited for a phone call and an appointment to see someone in Aleppo. So we said our goodbyes and agreed that we would probably see each other again in Ankara.
After packing and getting ready to leave, I noticed that someone had stolen my Donald Duck good luck charm. This guy had been with me since Adelaid, South Australia, where someone had left him on my bike. He has brought me goodluck on over 100,000km, and now he was gone. Probably some kids, hope they find a good use for him; bye Donald, I'll miss you. (This was the third theft of anything ever, first one being a drink bottle in Aqaba, and the second; Cecilias mascot in Irbid, Jordan.)
We headed towards Latakia and got to the castle fairly early, had lunch and decided to continue to the border. We didn't bother seeing the castle from the inside. We did however have a good look from across the way where there is a great vantage point. The castle is pretty much gone, and only the grounds are clearly visible, parts of some buildings stand but not very much. The most impressive thing was the needle where two lanes have been carved into the mountain leaving the wall of the castle separate from the other side.
Unfortunately, the town along the border had no camping, and the hotels were too expensive, for our tastes anyway. So instead of spending another night in Syria, we decided to cross the border in Turkey.
Syria: Last impressions
- Excellent country to travel in.
- Few hassels, and friendly people
- Good value for the money
- The largest, cookie rolls ever!
- Few tourist, and therefore the people are a lot more open and "genuine".
- Very hot in June. So we could not go out to the desert and Palmyra. Resolved to come back some other time.
A very interesting country, a mix both of Christian and Muslim which I hadn't expected. Very few tourist, particularly outside of Damascus and some other tourist areas (Krac Du Chevalier). People are very friendly and inquistive. We seemed to have choosen the hottest time of the year to show up and it really was hot (50C in Hama).