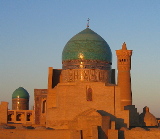 After Turkmenistan, the formalities in Uzbekistan were simple, and even after we were finished (30 min) we kept wondering if there was something else to take care of.
The procedure consisted of filling out two customs declaration forms, getting the passport stamped, telling the doctor that there wasn't anything wrong with you. Driving 50 meters to customs and showing the paper to a clerk there who stamps it and you are done. Could hardly be simpler.
For the overview, check out Formalities: Uzbekistan
We then drove through wonderfully green fields full of melons and other fruits and vegetables to Bukhara. Where we were completely lost for a while, until a young man on a bicycle escorted us to the hotel we were looking for. The poor guy wanted to take shortcuts which we on the motorcycles couldn't do, so in the end he ended up going the "long" way around pedaling like furious followed by the two bikes. Pretty funny sight actually. The problem had been we had been very close to the hotel, but the area was a pedestrian zone, with a number of dead end streets all around. When we got to the hotel, the guy on the bicycle just continued pedaling, we didn't even get a chance to say thank you.
As we got off the bikes, a familiar face is staring at us from the rooftop terrace. Massimo was here! He had had an accident in northern Turkmenistan and had slightly hurt his foot, but otherwise had gotten here without incident. He was now headed to Tashkent to pick up his girlfriend who was going to be accompanying him back to Italy.
The following day after a leisurely breakfast and saying goodbye to Massimo we proceeded to visit some of the sights of Bukhara. My poor vocabulary can't really do justice to the sights here. They are simply incredible, from the Kalon Minaret, to the bazaars and various city quarters, your mouth is continually dropping with the grandeur and elegance of the various buildings. In particular the tile work here is some of the most beautiful I have seen anywhere. Some of the awe is surely inspired by our visit to Ashgabat, which had none of the charm or "soul" of what we witnessed here. There are justly many tourists here, but it doesn't feel overly touristy (at least outside of the bazaars!!), and as soon as you take a dip into some of the alleys and byways you are living history, as these alleys haven't changed in 400 years.
The following day we continued to Samarkand, the city build (OK made immortal) by Timur and his grandson Ulughbek. The sights here are even larger and more magnificent in scope than anything in Bukhara. Nevertheless I preferred Bukhara as being more compact and easier to traverse. Samarkand was one the greatest cities on the Silk Road (even mentioned in "A Thousand and One Nights"), and the architecture shows this. The most spectacular sight is in the center of the city called The Registan, a collection of Medressas (Muslim schools) around a plaza. Tile work everywhere, on an unbelievable scale. I particularly enjoyed some of sloping walls, wondering when the whole thing would come crashing down. This is one of the single most impressive sights in Central Asia (says so in the Lonely Planet, and we agree).
| | | |
| --- | --- | --- |
| | | |
Of course there are a lot more sights all around, and the usual bazaars, markets and mausoleums. If I hadn't seen Bukhara first I would probably would have wanted to spend more time here. As it was, sensory overload was already reaching critical.
Onward to Tashkent. Somewhere on the way to Tashkent, we passed Massimo going the opposite direction together with his passenger, unfortunately he didn't see us so we just continued. Tashkent, is a modern city with wide boulevards, very green, and large.
We found a resonable hotel (Orzu) with a good parking spot for the bikes, and ran into a Turkish couple we had met (well him anyway) in Ankara. The next day we then met a French guy on a brand new GS, so this seemed like the in place for bike travelers. The motorcycle parking was through the front door into a small courtyard, where 4 bikes fit pretty well, but no more.
| | | |
| --- | --- | --- |
| | | |
Around the corner from Orzu was the Cafe Caravan. A must experience. Anyone who is anyone seems to show up here for lunch. The day we went there we almost got shot by security guards from a nearby embassy (didn't find out which one, but I am betting the Israeli). Any we are just walking around, lost as usual, looking around for the cafe. As we pass this building a security guard comes running after us followed by a couple of policemen. He starts yelling at us in Russian, no idea what his problem was, the asks a lot of questions in a very confrontational manner. I asked him a few of my own, to which he didn't respond, anyway after the usual; show me your passport, where are you staying, what are you doing here etc. He waves us off and pointed down the road to show us the way to the cafe and stormed off with the police in tow. No idea what triggered that encountered (although in hindsight, it might have been because we didn't stop the first time he yelled something, we didn't even think he was yelling at us!). But they seemed to be seriously worried about something. Keep in mind this is a public street we were walking down on, across from the compound from where he saw us! No camera in hand, certainly not behaving "questionably".
At the cafe, it was so busy that we sat outside, and since it was a nice summer day this didn't bother us a bit. Because it was so busy it took a while to get our food, which was very good (the food that is). But the real attraction here is people watching, and the ambience with is something between kitschig and bizaar, or maybe that should be bazaar. We ended up spending at least 3 hours just watching the coming and going of the customers, many with body guards, and associates. For some reason after a couple of hours the waiters brought us a plate with some fruit, on the house, guess they felt sorry for us for some reason? Or maybe we should have ordered more stuff.
We tend to try to avoid cities as a rule, and in Tashkent we only wanted to take care of a few minor errands before continuing. So after two days we moved on to Kazakhstan.
Leaving Uzbekistan, and entering Kazakhstan were both fairly painless, the usual running around, but absolutely a breeze compared to Turkmenistan!! Something which will continue to be a mantra, "at least it isn't as bad Turkmenistan".
One of the biggest surprises of this trip. My fault probably, as I had done zero research! Wonderful historical sights, a good tourist infrastructure, and relaxed and open people. At least Bukara and Samarkand, Tashkent was a different story. The funny part was that for example in Bukara. After a day of walking around and seeing the monuments, madressas, and bazaars, the most fun was the small alleyways and watching the people going about their daily lives, steps away from the tourist throngs.