March 2006
14 Feb - 17 Feb 2006
Tan Tan Plagé to Merzouga
The novel continues!
Tiznit
The next day after the day trip south we left Tan Tan Plage for Tiznit which was to be our stop before heading east into the border area between Morocco and Algeria. The road was the same as we had come down until Goulimine and after that there wasn't much new, a small uphill where it went over part of the Anti-Atlas but otherwise un-eventful. We had passed Tiznit on the way south, so we knew where the camping was (right at the entrance to "old" town). Tiznit is known for its Jewelry souks, so after setting up we headed into town to have a look. In the middle of a small plaza was the entrance, behind that there were a number of small shops, with all sorts of jewelry, gold, silver, and various semi-precious stones, but the majority of shops were specialized in silver jewelry. In any case we looked around and even made some inquiries into prices, but Cecilia was too undecided so we didn't buy anything. For my tastes there wasn't anything really extraordinary, but there were lots of people (women) walking around and doing some hard bargaining.
Tata
After leaving Tiznit, the road wound into the mountains to the east, and surprise, surprise, this turned out to be the most interesting road (just ahead of the road from Sidi Ifni to Goulimine), we have traveled on so far in Morocco. Nice curvy road, through some wonderful country side, it was so much fun in fact, we didn't stop to take many pictures.
The rest are under pictures I guess we will have to come back someday and properly document the route, for an idea of what it looked like (from a height profile), see Tiznit - Tata Track. Further along we ran into some high mountain villages.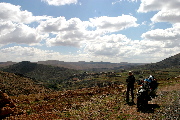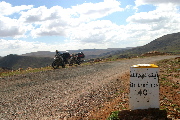 Wherever we passed people, everyone was waving us down or gesculating wildly. Often, as soon as they saw us coming, they would be running down to the road. Or if we stopped somewhere, no matter how remote it looked, in a few minutes there would be 2, 3, 4 or more people showing up out of nowhere. Once surrounded by children and/or adults they would repeat the speech "Donnez-moi, un dirham, un stilo, un cadeaux, quelque chose", until they were hoarse or you left! Basically they were begging. And the speech was pronounced so fast, in a single stream, that it took a while until I understood what they were saying. I was starting to wonder why everyone was so "friendly". We had always evoked a reaction when passing people on the roads, usually, a thumbs up or a friendly wave, but here in the mountain and easter regions of Morocco, they were really trying to get us to stop and give them something. It turns out that the friendly seniors in their camper vans, often stop and give the kids, candy, clothes, bicycles!, pens, money, whatever, and the children are equating the tourist or anyone not local with a free handout. Basically, they are turning them into beggars. We found out that a lot of the camper van brigade feel they are proving their own brand of direct development help! Something we did not find very good at all. As I said before these handouts, are effectively turning them into beggars. We witnessed a Norwegian camper van stopping in the middle of the road at a village just south of Irherm and handing stuff out the window to the gathered masses. When they finished and were starting to drive away, those who got nothing were beating on the sides of the camper, running in front trying to keep it from leaving. It couldn't have been very pleasant for them (the seniors) either.
For any gallivanting seniors who read this (or anyone else who is confronted with this situation) we have the following comment. We understand the good intentions, but the solution isn't bringing stuff from home and dumping it in the first village you see. Yes, they are poor, they have little, but this type of direct action isn't accomplishing the goal, and is resulting in more problems than solutions. In our opinion, there is no "simple" solution, if you really want to help, then you will need to do more than just dump stuff out the window at the first "needy" person you see. Amongst our suggestions, contact the teachers, or the civil administrator and let them decide who is to receive what. (yes, rampant corruption etc. has to be taken into account). An even better and less hassle would be to support your favorite NGO and give from home. There are plenty of organization who specialize in helping developing areas. If you have comment please mail them to info@fernweh.ch, can't wait for the reaction to this!!
Zagora
| | | |
| --- | --- | --- |
| From Tata we headed to Zagora, and we decided to take the N12 which according to Sahara Overland by Chris Scott (which had been lent to us by Martin) was a very rocky piste through some not very interesting country! He was right, it was very, very rocky, the country was ok, basically just flat flood plain, between two sets of "hills". | | The piste part took us 4.5 hours in total, with 3.5 hours riding to go 120km. A couple of crashes, but nothing too spectacular. One thing though, I am not so sure I would want to do it in the middle of summer. The first part of the road was great, as they are working on paving it, so it is flat and fast, but after 20km, the going got very slow, and hot. |
The countryside east of Tata was just very, very sparse and not even a herder was to be seen. The Algerian border and the "real" Sahara is just over these hills!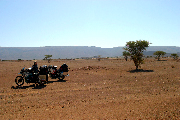 We spent the night in Zagora at a very nice little oasis, which primarily catered to tourists who do camel treks from Tata to Zagora (2 weeks) or our old friends the camper van brigade.
Merzouga
We continued in direction of Merzouga, where Erg Chebbi waited, our main goal in this part of Morocco. The road uneventful, a road through the same type of country we went through the day before, but well paved and in great condition.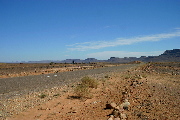 Before you get to Merzouga you have to go through Rissani, and in Rissani all the signs to Merzouga have been vandalized. Apparently, a few years ago there was no road to Merzouga, and the Rissani's were making some good money leading the tourist south. Then came the road, and now you don't need a guide anymore, so the Rissani's are out of work, and consequently systematically vandalize the signs, so that unwitting tourists have to stop and ask directions. Of course the Rissani's are out in force waiting to help the tourists, with directions, or maybe a stop at a souvenir shop? As you are driving through there are plenty of people trying to flag you down! It doesn't look like they are going to be getting any richer soon, as nearly every camper or tourist car we saw had a GPS!
Merzouga is known for the fossils found everywhere, and as soon as you step outside the camping/hotel compound, young boys, or men walk over to you and try to sell you fossils. On closer inspection though a lot of these are fake. But the real sometimes very nice. The fakes are made by putting something like concrete on a rock and then chiseling or filing a pattern of say a scorpion on it! Also, anyone flagging you down along the roads, will more than likely try to sell you some fossils. We were 14 km from Rissani and had pulled off the side of the road for a drink and "personal" stop. When, lo and behold a young man on a bicycle spots us and rides the 100 meters or so off the road where we had parked and pulled out a number of fossils from a satchel. We almost died laughing, poor guy probably had no idea why. Needless to say we didn't buy anything and continued on our way.
In Merzouga, we camped at a very lovely campground, just in front of the dunes, and went out to the dunes to catch sundown (see pictures) very nice. The campground itself was a number of small bungalows, some traditional berber tents, and a couple of small rooms around a courtyard with a pool. A nice lounge area outside and a small restaurant inside. Very relaxing and quiet, we came for a night and ended up spending 4, just lounging around or walking out on the dunes.
The second day, we decided to hike up the two highest points on the dunes. In all we walked around 13km through sand (see the Around Merzouga Track). It was a very strenuous day and in the afternoon we were pretty dead. Lucky for us they had a restaurant, otherwise we would have gone to bed without cooking!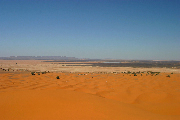 Ok, we are getting to the end, click here part V
---
All Material is ©2010 by Khim Rojas and Fernweh Adventures